---
The Fan Fiction Archive is a site where any person can have their own story, poem, etc. published on this site where everyone can read it. The format is below. There are currently 41 masterpieces in the Archive, with a few more to be added soon!
---
indicates the more recently added items.


---
Due South Wav's

Check out Ashley's Due South Wav's Archive.


---
Want to Get Posted?
Click here to learn how.
---

April 25, 2000


---
If you have recently tried to submit something and have received no reply, I sincerely apologize. Rather than going on a rant about my relationship with Hotmail... grr... my new e-mail address is posted below, and I urge you all to re-submit your work. I apologize again, and thanks for your patience!
---
E-mail Ash
---

Please, SIGN the guestbook.
---
Check out the pages of the Friends of the Fan Fiction Archive!


---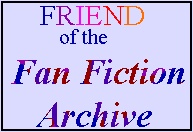 Wouldn't you like to have this great logo to have your page look a little cooler? Feel free to use it to link to the Fan Fiction Archive! If you do, write me (bluerangerbilly@hotmail.com) and I'll put you on my friends page. Thanks!
---

You are the
visitor since the grand opening on 5/19/97.
---
---
DISCLAIMER:Ash will bear no responsibility for any of the stories posted on this site. Any copyright infringements, whether accidental or intentional, are of the author's own doing. By submitting a story to this site the author takes full responsibility for his or her own actions.
---